Our offer
Daniel's Hilo experience
Daniel wanted a smart home service that would make his life easier.
Daniel wanted a smart home service that would make his life easier.
Home

One-family

Number of rooms

12

Number of people

2 adults and 3 children
Dan loves a challenge!
Dan first heard about Hilo when he was out jogging along the snowy banks of the Lachine Canal with his friend Eric. Eric and Dan have lots in common, including an interest in innovations that simplify daily life.
What really captured Dan's attention is the fact that Hilo offers challenges. His friend asked him,
"What do you think 'peak periods' are when talking about energy consumption?"
"I guess you're talking about when everyone cranks up their heating at the same time, say about 6 p.m. in the middle of winter. Like right about now!"
"Exactly."
Eric explained that Hilo challenges give each household the opportunity to help reduce GHG emissions during peak periods. That means more clean energy can be exported to markets where it will replace electricity generated from fossil fuels.
Dan was intrigued. Over the past few years, he has developed an interest in smart homes. He likes the idea of programming his home to save time and enjoy greater comfort. He hadn't jumped on board yet because he was waiting for a Québec initiative.
Hello, efficiency!
Dan has been using Hilo for six months now.
Nothing's been left to chance: his home is carefully programmed to meet the whole family's needs.
His wife, Caroline, enjoys it as much as he does. By managing the temperature and lighting from a single app, they no longer have to run around the home's 12 rooms on weekday mornings adjusting thermostats. Now, Caroline even has time to finish her bagel before leaving for work! And thanks to Google Home, they can use vocal commands to turn off a light, for example, without using their phones.
To maximize their rewards, Dan likes to take on challenges in the Intrepid mode, that is, by lowering the set temperature to 17°C. He takes advantage of this temperature to do his stationary bike workout in comfort. Two birds with one stone!
As Caroline and Dan travel frequently for work, they can activate Vacation mode in the taxi on their way to the airport, or even from another country. While they're away, they can activate specific settings, such as the temperature of each room—19°C for the room where their guinea pig, Benny, lives, and 17°C for the rest of the house—and randomized lighting that simulates their presence. Just one more practical application that contributes to the couple's feeling of security!
Before they got Hilo, Dan and Caroline often worried: "Did we remember to turn the lights off before we left? Did we turn all the thermostats down?" They used to text their neighbor, Al, to ask him to go and check. Thanks to Hilo, they no longer have to bother him . . . unless they run out of ketchup!
Even story hour with the kids has been enhanced with Hilo as the coloured light bulbs offer a variety of magical lighting options they can adapt to each story!
Dan's choice of products
Why settle for just programming the lighting and heating?
A home that matches their lifestyle
From Monday to Friday, scenes have been programmed to match the family's schedule.
5 a.m.
Everyone will be getting up soon. A setting of 21°C in the main bathroom, the two children's rooms and the kitchen for a cozy family breakfast.
7 a.m.
And they're off! A setting of 17°C everywhere except for Benny's room: he gets a comfy 19°C. No energy wasted! The lights go out automatically.
6 p.m.
Everyone's back home. A setting of 21°C in the living room and the kitchen. The lights go back on.
10 p.m.
Time for bed! A setting of 19°C in the bedrooms and 17°C in all the other rooms.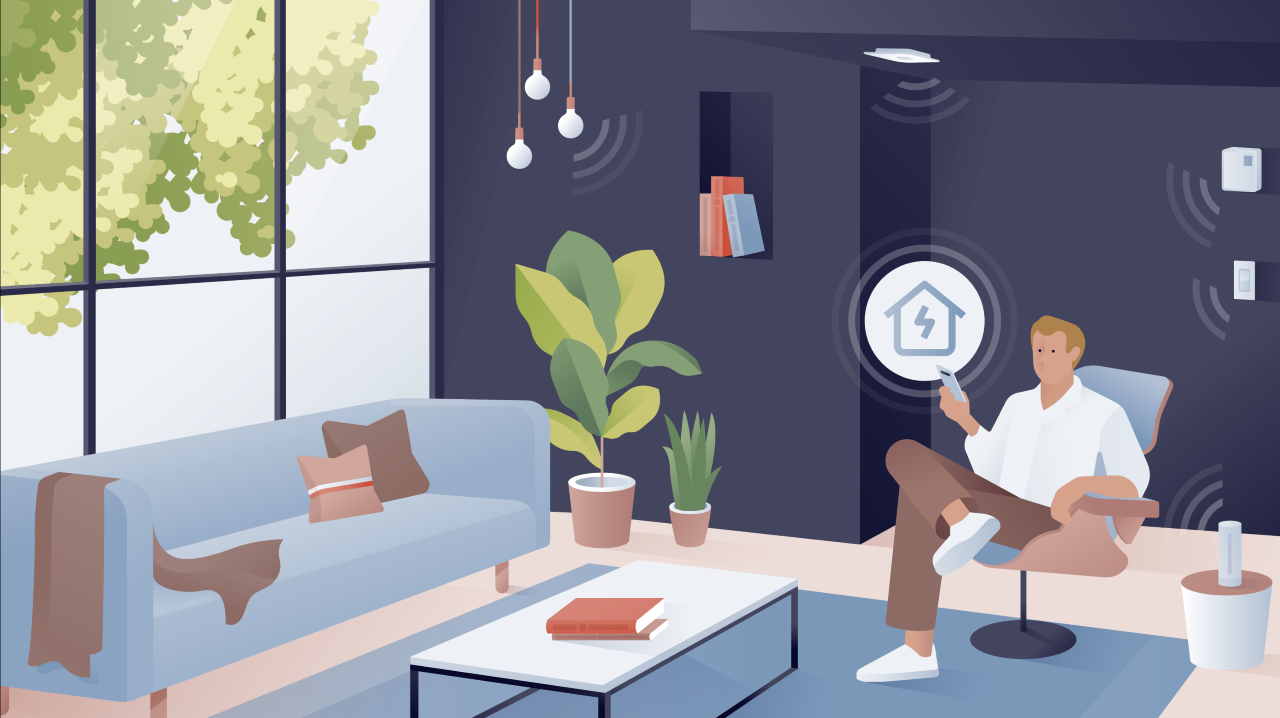 His rewards for engaging in the Hilo challenges
$320
His annual electricity savings.
$140
His rewards won during the challenges this winter.
$384
A 20% discount on the purchase of 12 thermostats and 30% on lighting devices.
$0
Free installation and free Smart Hub thanks to a three-year commitment to participate in the Hilo challenges.
In addition to saving money, Dan and Caroline are saving time. Just for fun, they calculated that, over the six coldest months of the year, they used to spend two minutes a day adjusting their 12 thermostats. That's 364 minutes (or six hours) a year, just adjusting the temperature!
At the end of the year, Dan and Caroline will also receive a $140 reward thanks to the kilowatthours (kWh) they saved during the challenges.
As Dan sees it, there are many advantages to Hilo: you save time and money, and it's good for the planet!
* Daniel is a fictional character. His experience is an example based on estimates and a typical energy profile.
Three experiences to inspire you