Medium Home bundle
$339.99
6 to 10 thermostats and up to 7 connected devices
Homeowners or renters, city dwellers or suburbanites, everyone can take a big step towards saving money with this smart device bundle.
Get 6 to 10 smart thermostats, depending on the number of thermostats you now have in your home.
You need a minimum of 3 thermostats to qualify for Hilo services, but the best way to maximize your energy savings is to replace all of your old thermostats with smart thermostats. Energy savings of up to 15% is no small thing!
+ a bonus of 6 connected devices from any of the following, depending on your needs:
+ 1 smart hub and free installation, including support every step of the way to program your devices.
*With a 3-year commitment. Some conditions apply.
A turnkey service for
$339.99*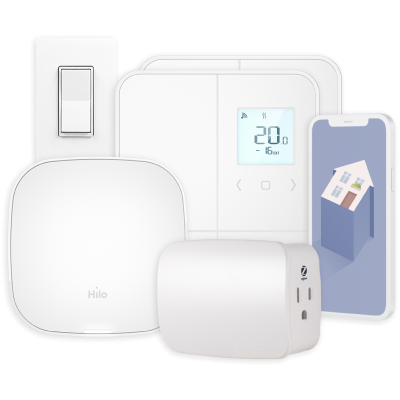 More devices at home means more time and comfort for you
Equip your home with connected devices, from the basement to the attic, to ensure you're comfortable in every room. Not only does automation increase your level of comfort, it also makes your daily life easier.
Find an offer that's just the right size to save money for the size of your home