All articles
It's possible to use less energy and be more comfortable!
3 minutes reading
Is saving energy while being comfortable a contradiction in terms? Not for Martina. Her Hilo smart home products make her everyday life easier while also increasing her well-being and peace of mind. No more need to worry about whether she forgot to turn off the air conditioner or lower her thermostats before leaving the house—with the Hilo mobile application, she can control her devices even when she's not at home, so she only uses the energy she really needs.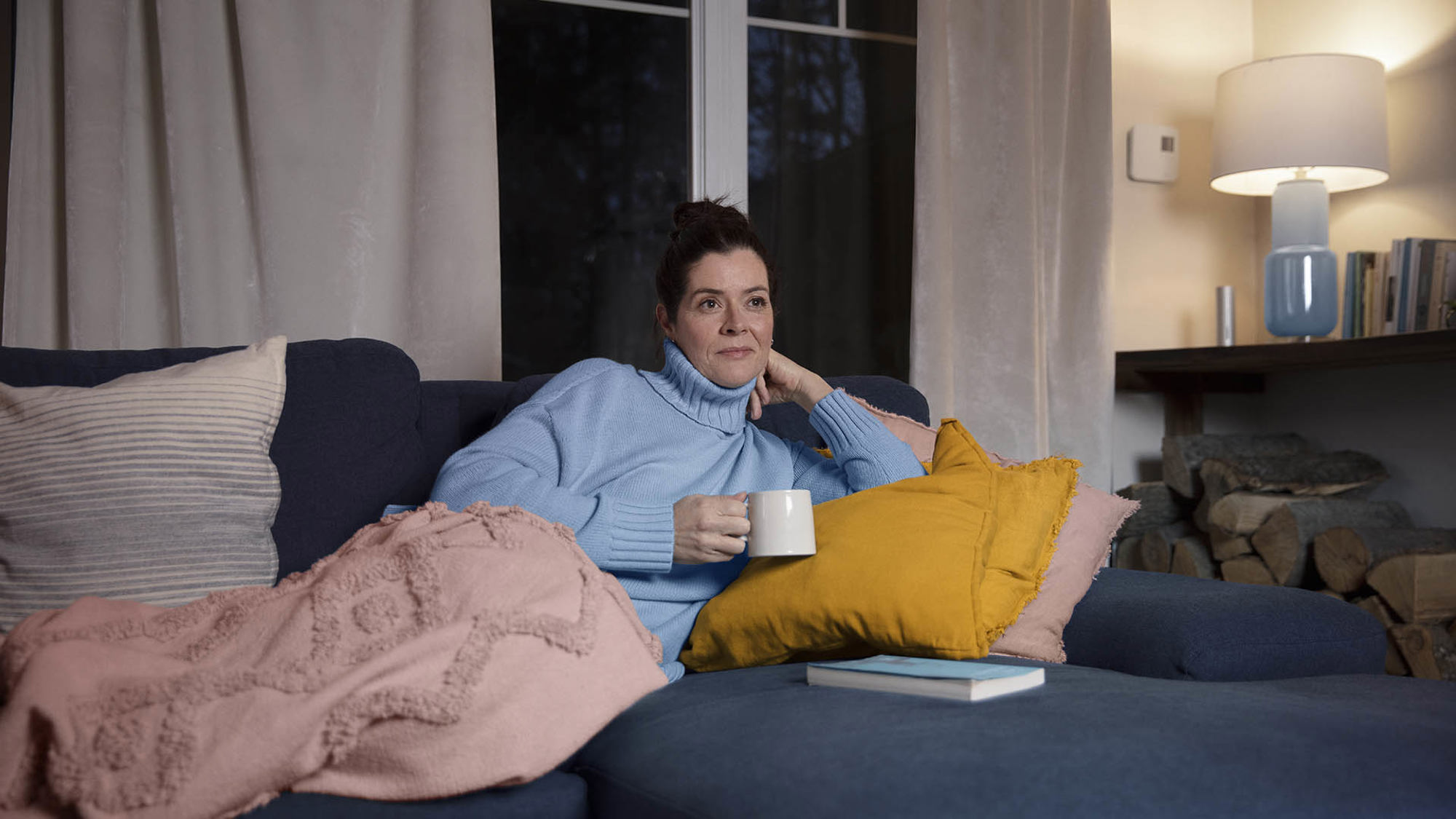 Home: Urban row house
Number of rooms: 9
Number of people: 1
How do I join Hilo?
The starter kit includes:
the Hilo hub

2 smart plug-in switches
Next, since Martina's home has nine rooms, she bought nine smart thermostats.
She also got wall switches to make her smart home more comfortable.
A certified electrician arrived to install the devices for free and explain how to use them. Now she can program them herself (even remotely!) from the Hilo mobile app. This helps her save energy and play a small part in accelerating our clean energy transition.
Last year, thanks to Hilo, Martine earned $146 in cash rewards and saved $275 (approximately 15%) on her electricity bill. These savings will allow her to recoup her initial investment of $621.08 in less than two winter seasons.
Smart switches: Little practical luxuries
What's great about smart switches is that you can connect any device in your home to them so you can control them remotely. They allow Martina to save a lot of energy without sacrificing her comfort.
For example, in summer, Martina connects her air conditioner* to a smart switch. On especially hot days, she turns the AC on remotely through the mobile app before she leaves work, so her home is cool the moment she arrives. If the air conditioner is on when she goes to bed, she programs it to stop at 1 a.m. to avoid wasting energy when nighttime temperatures are cooler.
Martina also plugs her coffee machine into a smart switch. In the morning, she activates the machine through her smartphone so she can stay in bed just a little bit longer while her coffee is being prepared. Bliss!
During the holidays, there's no need to crawl under the Christmas tree every evening to plug it in: Just open the Hilo app and watch it light up! Sometimes comfort is about the little things.
*Total charge capacity for both switches is 1,800 W (15 A).
Say yes to peace of mind!
Every year, Martina takes a holiday. During prolonged absences from home, she takes comfort in being able to simulate her presence using Hilo's smart features. She does this by simply activating certain scenes, such as turning on the smart switch in her kitchen in the evening. Now she can relax and enjoy her vacation!
Smart, energy-efficient heating
Using the mobile application, Martina has set her Hilo smart thermostats at 17 degrees whenever she's not at home. One hour before she returns, the temperature of the living room and kitchen increase to 21 degrees. By the time she walks in the door, a cozy home is ready and waiting without her having to even think about it!
During the winter, she participates in Hilo challenges and receives cash rewards for each unconsumed kilowatt-hour. Succeeding at a Hilo challenge means you need to reduce your energy consumption for a few hours during peak demand periods. Her trick to avoid feeling chilly? She always uses the pre-heating option in the rooms she uses the most.
With Hilo, Martina has found the ideal balance that lets her contribute to creating a greener Quebec through a major community project without sacrificing her comfort.