A simple and efficient routine is every parent's dream. To help them achieve this, Caroline and Daniel adopted the Hilo smart home. Here's how they did it.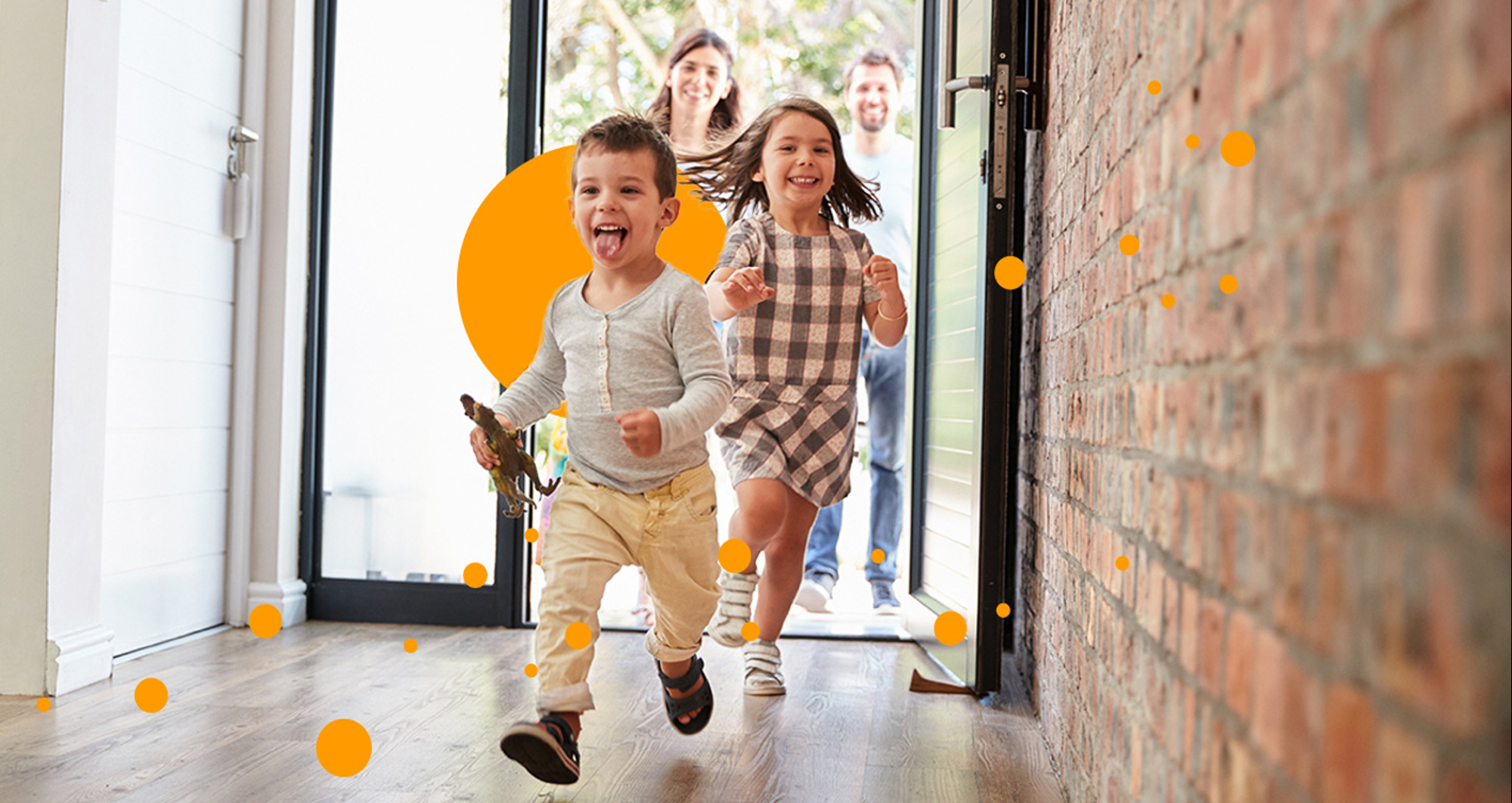 Home: Single-family home
Number of rooms: 12
Number of people: 4
Hilo bundle: Large home
Signing up for Hilo is easy!
Daniel and Caroline had 12 thermostats in their home, so they chose the Large Home bundle (11 to 20 smart thermostats) for $479.99.
The bundle includes:
12 Hilo thermostats
The Hilo hub
8 bonus devices
What they chose: 4 smart in-wall switches, 1 smart dimmer and 3 smart plug-in switches.
They also purchased a few full-colour smart bulbs and a smoke detector.
A licensed electrician installed their devices for free and showed Caroline and Daniel how to use them. They can now program everything using the Hilo mobile app, from wherever they are—in the next room, at the office or even in Tokyo!
Hello efficiency!
Simplifying your routine means saving time when it matters most.
Two things Caroline and Daniel no longer have to do during the chaotic morning rush is run around the house lowering all the thermostats and turning off all the lights. They manage it with the Hilo app—all it takes is just a few taps of a finger! Also, they don't need to worry if they forget to do it before leaving home, because they can easily control their devices remotely. They can even program automatic settings for specific times of day.
Watching a movie with the family and forgot to turn off a light? No need to disrupt the fun. Just use the Hilo app.
At story time, Caroline and Daniel turn on the colour bulbs in the kids' bedrooms and create different moods depending on the tale.
Since they have Google Home, they can also control their devices with voice commands, without using their phones. So, if Daniel is elbow-deep in flour baking cookies and wants to increase the lighting in the kitchen or lower the thermostat, all he needs to do is say the command.
A simpler day-to-day
Daniel and Caroline have left nothing to chance. They've programmed personalized scenes that match their little family's daily routine and help them save time. A scene is a grouping of several different settings (temperature, lighting, etc.) that can be adjusted all at once with the Hilo app.
5 a.m. – Almost time to wake up. The temperature in the main bathroom, three bedrooms and kitchen rises to 21 degrees so that everyone can be comfortable at breakfast time.
8 a.m. – Leave for the day. All the thermostats in the house automatically go down to 17 degrees, except for Gilbert the guinea pig's room, which stays at 19 degrees. The lights go off. No energy is wasted!
5 p.m. – Back home. The temperature rises to 21 degrees in the living room and kitchen. The lights turn back on at 6 p.m. when everyone gets home. A comfortable home awaits them.
9 p.m. – Off to bed! 19 degrees in the bedrooms and 17 degrees in other rooms.
Peace of mind at all times
Caroline and Daniel travel frequently for work. They can activate their smart home while in the taxi on their way to the airport, or even from another country. They can even turn on and off the smart switches for their home's lighting to make it seem like someone's home, which makes them feel more secure.
Before Hilo, Daniel and Caroline would often wonder: "Did we turn off all the lights before leaving? Was the heating lowered on all the thermostats?" They'd email their friendly next-door neighbour to ask him to check. Today, wherever they are, they just need to check their Hilo app.
They can also remotely deactivate their coffee maker, humidifier or space heater thanks to their smart plug-in switches. And if the smart detector detected smoke, Daniel would receive a notification on his phone and could then alert the fire department. No more worrying!
Small actions, big savings
Hilo is a win-win solution for both the planet and your budget— because saving energy also means saving money. After one year with Hilo, Caroline and Daniel saved $488 on their electricity bill, which works out to about 15%.
To maximize their cash rewards, the couple takes on the Hilo challenges in Intrepid mode, i.e., by lowering the set temperature to 17 degrees. During their first winter, Caroline and Daniel received $159 in rewards. By adding this amount to their electricity savings, they reimbursed their initial investment of $479.99 in less than a year and are still saving.
Want to save also? Calculate the savings you could make with Hilo.