All articles
Make the family routine easier with Hilo
3 minutes reading
Every parent dreams about finding an easy, efficient routine for living as a family. To help themselves get there, Caroline and Daniel adopted the Hilo smart home. With its adjustable connected devices operated through a single mobile application, their daily family schedule has become a lot easier. Here's how they did it.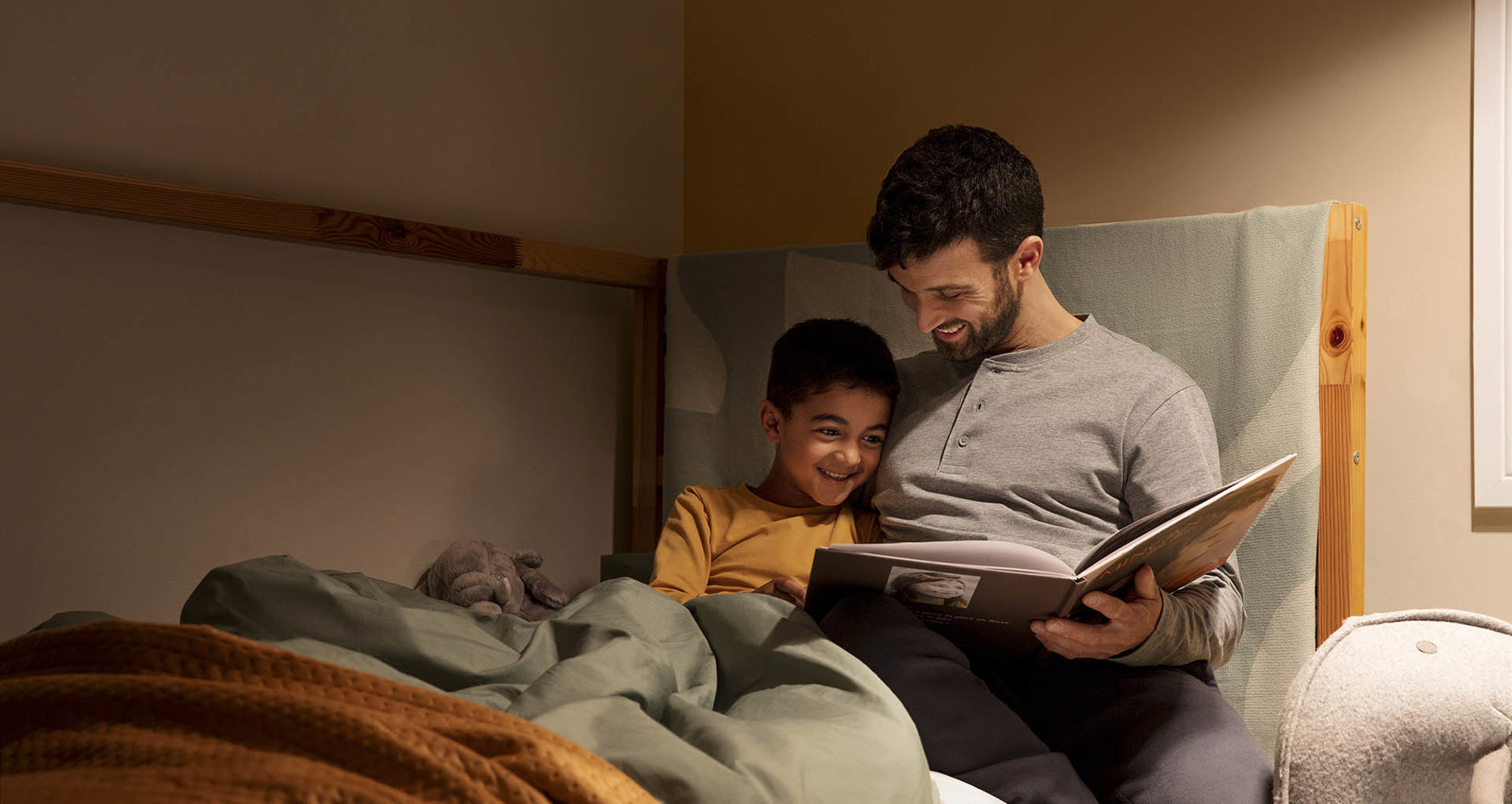 Home: Single family house
Number of rooms: 12
Number of people: 4
Signing up for Hilo is easy!
The starter kit includes:
the Hilo hub

2 smart plug-in switches
Since Caroline and Daniel's home has 12 rooms, they added 12 smart thermostats to their order.
The couple also chose a few complementary connected devices:
Finally, Caroline and Daniel also adopted the smart solution for electric vehicle charging, offered free of charge with the starter kit. This way, their car would also be able to participate in Hilo challenges!
A certified electrician arrived to install the thermostats, dimmer and switches free of charge, and showed them how to use them. Now they're able to program their devices themselves from the Hilo mobile app, whether they're in another room of the house, at the office or on a business trip in Tokyo!
Say hello to efficiency!
Simplifying your routine means saving time and becoming more efficient.
Now when watching a movie as a family, there's no need to stop the film to turn off a light. Just one click on a smartphone and it's done.
Since they have Google Home, they can also control their devices by voice command without using their phone. For example, if Daniel has his hands full making some cookie dough, a simple voice command is all it takes to lower the thermostat in the kitchen or increase the amount of light.
An easier daily routine
Daniel and Caroline have left nothing to chance. They've programmed personalized scenes that match their little family's daily routine and help them save time. A scene is a grouping of several different settings (temperature, lighting, etc.) that can be adjusted all at once with the Hilo app.
5 a.m. – Almost time to wake up. The temperature in the main bathroom, three bedrooms and kitchen rises to 21 degrees so that everyone can be comfortable at breakfast time.
8 a.m. – Leave for the day. All the thermostats in the house automatically go down to 17 degrees, except for Gilbert the guinea pig's room, which stays at 19 degrees. The lights go off. No energy is wasted!
5 p.m. – Back home. The temperature rises to 21 degrees in the living room and kitchen. The lights turn back on at 6 p.m. when everyone gets home. A comfortable home awaits them.
9 p.m. – Off to bed! 19 degrees in the bedrooms and 17 degrees in other rooms.
Peace of mind no matter where they are
Since Caroline and Daniel often travel for work, they can activate the Vacation scene when they're taking a taxi to the airport, or even upon their arrival in another country. This scene has specific settings for when they're away, including for the temperature of each room (19 degrees in their pet guinea pig Anatole's room and 17 degrees in the rest of the home) as well as random lighting throughout the home to simulate their presence, a feature that provides the couple with a sense of security.
Before getting the Hilo smart home, Daniel and Caroline would regularly worry about whether they had turned off all their lights before leaving the house, or if they had lowered all the thermostats. They would then have to text their neighbour to check on their home for them. Now, no matter where they are, they can check on the state of their devices through the Hilo application.
Using their smart switches, they can turn off the coffee machine, humidifier or extra space heaters, no matter where they are.
No more worrying!
Little actions for big savings
The Hilo solution pays, not just for the planet, but also to your bank account. Saving energy means saving money. By the end of their first year with Hilo, Caroline and Daniel had saved $348.96 or about 15% on their electricity bill.
To maximize their cash rewards, the couple participates in Hilo challenges in Intrepid mode, which means they lower their set temperature to 17 degrees. During the first winter, Caroline and Daniel received $246 in rewards. Adding this amount to their electricity savings, they will have paid off their initial investment of $824.83 in less than two years, plus they will keep saving money into the future.