How can you get the most out of your Hilo smart home? By programming automated and personalized scenes that match your daily routine. A scene is a grouping of several different settings (temperature, lighting, etc.) that can be adjusted all at once with the Hilo app. Once you've created a scene, you can set it to activate automatically or you can do it manually yourself. Here are some examples of scenes that can make your daily life easier and more comfortable all year round.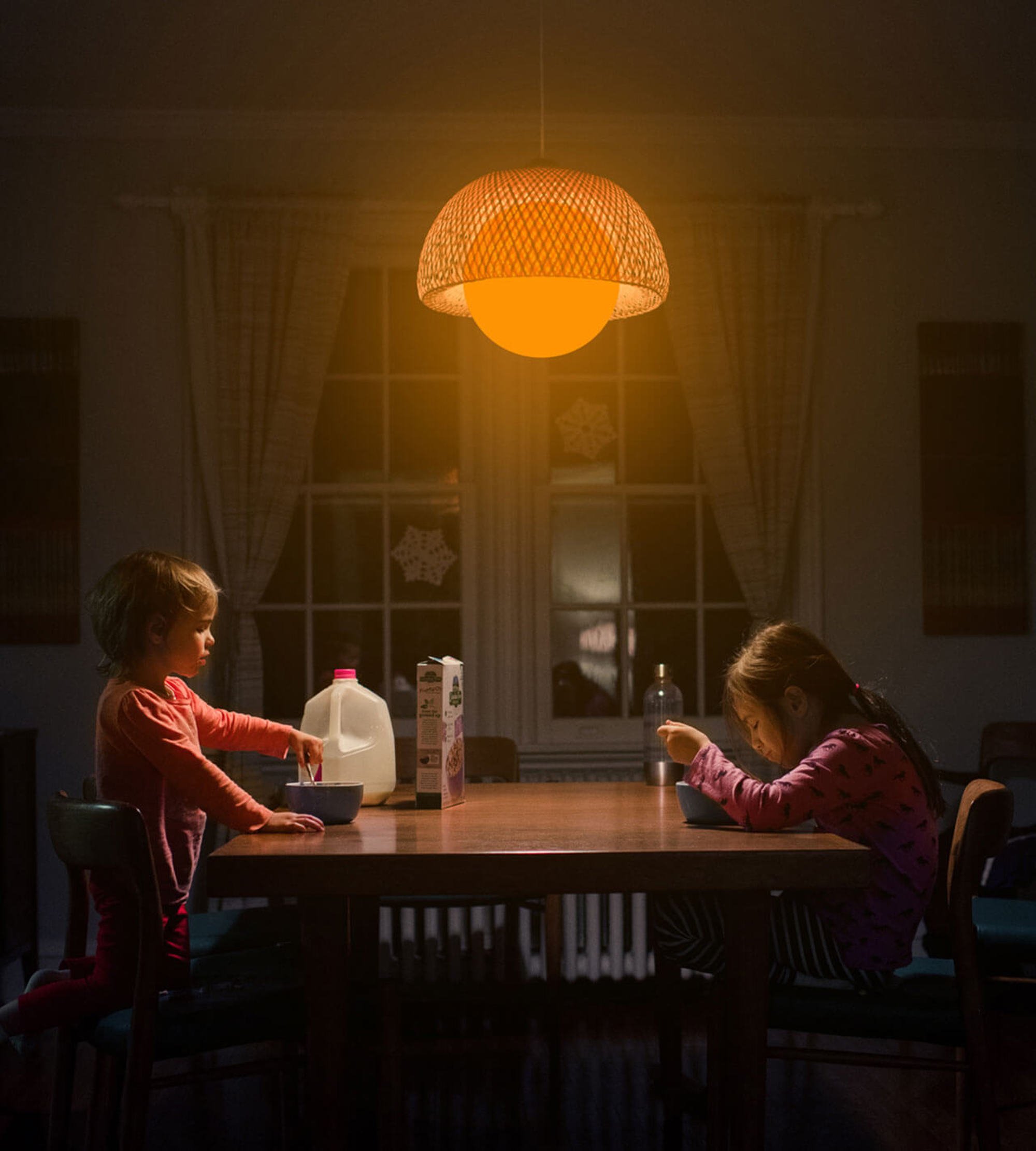 Home sweet home!
By combining the right temperature with the right lighting, you can create warm and comfortable living spaces. Going on a romantic getaway or a business meeting for a few days? Create a Ciao City! scene to automatically reduce the temperature while you're away and bring it back up a few hours before your return (the beauty of smart thermostats!).

"I love being able to give the impression that someone's home when we're away. I can turn different lights on and off and set the heating to go up a few hours before we get back. Total peace of mind!"
— Stephanie, mother of two
Chills on the horizon
Time for Halloween… or rather Hiloween! Mark the occasion by creating a supernatural setting in your front or back yard. With Hilo, you can activate the giant skeleton's arms, the inflatable monster, smoke machine and spooky playlist all at once! All you need are a few smart plug-in switches that let you simultaneously activate several devices. While you're at it, why not replace your standard light bulbs with smart colour bulbs to set the mood for a special family dinner? Simulate a pumpkin patch with orange lighting, create a Dracula-like atmosphere with red tones or a spooky forest with shades of green, violet and navy blue... with over 16 million colours to choose from, there's no limit to what you can do.
Fast-forward to the Holidays
With Halloween over, it's already time to think about the Holidays! Why not combine the practical with the pleasurable by creating a special scene, such as Ho! Ho! Ho! With the smart plug-in switch, you can set a specific time to light up your tree and start the Christmas village train. The smart dimmer lets you lower the lighting in a room to enjoy cozy evenings around the fireplace. Want to add even more ambiance? Set tones of red and green with smart colour bulbs.

"I created a Holiday scene and linked my switches and smart plugs to the Christmas tree. Then all I have to say is, 'Google, start the Holiday scene.'"
— Guillaume, a Hilo and Holiday Season enthusiast
Romantic evenings
Saturday's are meant to be enjoyed! Start your weekend off right by preparing for a romantic dinner with your partner. Set the mood with the help of your connected thermostat, dimmer and plug-in switch. The thermostat adjusts the room temperature to the right level, while the dimmer gradually turns on the lights around happy hour and the plug-in switch plays mellow music on the speakers.
Cheers!
Grandpa the sitter
While the parents are away enjoying a well-deserved night out, Grandpa is taking care of the kids. Always on top of the latest technology, he's enjoyed creating different scenes that can be activated with the Google Home voice assistant (Hilo is also compatible with Amazon Alexa). When he says "Google, start the Bedtime Story scene," the temperature in the guest bedroom drops a few degrees, the silent humidifier turns on and the smart colour bulb sets the mood with pink lighting. After putting the children to bed, Grandpa activates the Monsters Be Gone! scene with the smart dimmer, creating a reassuring glow in the hallway from 8 p.m. At 7 a.m., the Wake Up scene activates slowly, increasing the temperature in the living room and kitchen and creating a soothing light in the children's room to gently wake them up. Time to cook up some breakfast!
Scenes like this, adapted to your real-life needs, help optimize your energy use, as well as making your home an even more comfortable place in which to live. Create your very own Hilo experience, so you can enjoy every moment, big or small, to the fullest.