All articles
(Almost) everything you need to know about charging stations
4 minutes reading
Are you thinking of getting an electric car but concerned about charging stations? Don't know where to start? Here's how to untangle the wires—and the questions.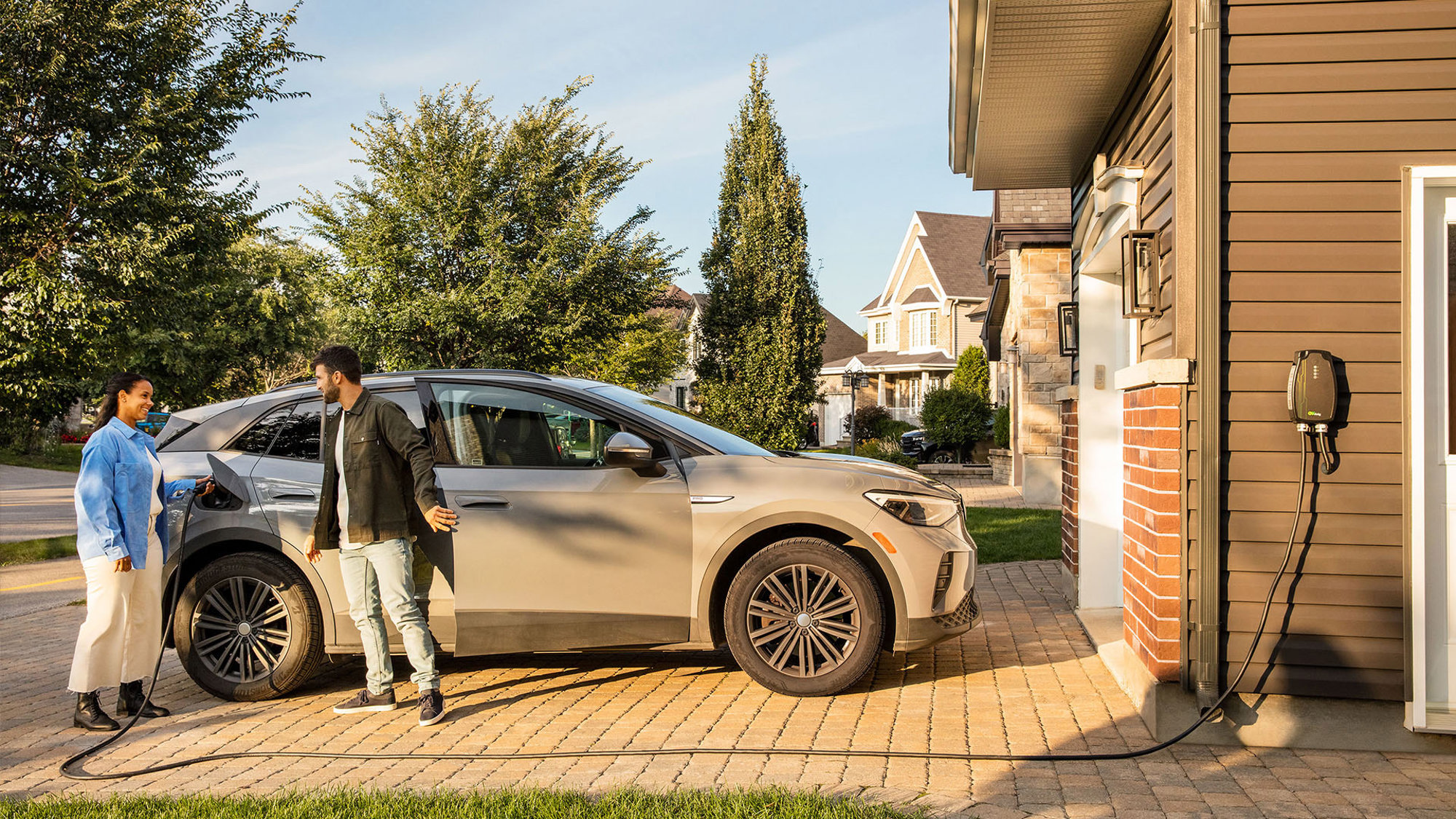 What comes first: charger or car?
We recommend buying the car first, since delivery times are particularly long. Meanwhile, you can have the charging station installed. That's what Yann Mathieu, who lives in the Montréal borough of Rosemont, did when he and his partner decided to take the plunge in 2022. "Then I looked into the different types of charging stations available for my type of vehicle, at which ones corresponded to how I planned to use it, and where it would be installed."
This Montrealer wanted, above all, a charging station that would fully recharge his vehicle overnight. Since he lives in an "8-plex" condo with outdoor parking, his charging station also had to be weatherproof.
EV home charger options
Level 1 chargers: All electric vehicles come with at least a 120 V charger that can be plugged into any standard household 120-volt outlet. The charge time, however, is longer than with level 2 chargers. You'll need from 6 to 8 hours to charge a plug-in hybrid vehicle, and 11 to 16 hours for an all-electric vehicle.
Level 2 chargers: These stations work on a 240-volt outlet, which will provide a full recharge in 6 to 10 hours for an all-electric or hybrid vehicle. Yann Mathieu chose this type of charger for his car, as it will always be parked at his home overnight.
Portable level 2 chargers: People who are often on the road can buy a portable charger. Equipped with a NEMA 14-50 or NEMA 6-50 plug, it too can be connected to a 240 V outlet; you just need to have access to one at your destination. Campgrounds that cater to motorists, for example, are equipped with them. This type of station is very practical for people who have a second home.
Smart charging stations with power sharing:
Families with two or more electric vehicles can benefit from power sharing. This was the solution for Jean-Marc Pittet, president and founder of Elmec, a leading Québec manufacturer of charging stations. "If you have a second electric vehicle," he says, "all you have to do is install the second station on the same electrical installation. Simply set up the stations in smart mode using an app, and they'll communicate with each other. When one car has finished charging, all the power will be sent to the second one to finish charging it faster. With power sharing, you can put five to six charging stations on the same 40-amp circuit breaker."
These smart charging stations never use more than the available power, which helps to prevent electrical panel overloads and circuit breaker problems. They're also very useful for multi-unit residential buildings (more on this later).
What about our climate? No worries—the chargers available in Québec are all adapted to our climate of extremes and able to withstand temperatures ranging from -40 °C to 50 °C.
Installation: what are the constraints?
For owners of single-family homes with parking, there generally aren't any constraints. To make sure of this, check with the City; but normally permits are not needed.
Since Yann's condo has outdoor parking, he had to check with his co-ownership syndicate to ensure they agreed to the installation of a charging station. This is an important obligation that should not be overlooked, since parking spots are common areas, and the syndicate could require the installation of an aluminum pedestal, for example. "We're fortunate to have parking at the rear that gives onto an alley, which simplifies things," said the co-owner.
For large multi-unit residential buildings with private parking, such as apartment or condo complexes with indoor parking, current sensors are a good idea. Whether 1,000, 1,500 or 2,000 amps, they protect the main power supply. Individual sensors modulate the energy to be sent to each vehicle and measure the electricity used so that each vehicle owner pays their fair share. The sensors also use artificial intelligence to communicate with each other, so they use energy at the optimum time, usually at night when demand in the building is at its lowest.
"For homes, condos or apartments without private parking in Montreal, installing a charging station is not really feasible," said Yann. Jean-Marc Pittet agrees. Even if you always managed to park in front of your home, the charging cable would impede the sidewalk, which is a public space. Public chargers are a good solution for this type of situation. The Electric Circuit charging network, which is becoming increasingly available throughout the city, is very practical. Learn more about it here.
Which supplier, and at what price?
There are numerous EV charging station suppliers! Some carry a single manufacturer's model, while others offer a range. The Rosemont couple mentioned above got estimates from three different companies. In the end, the estimates were fairly similar. The cost of purchasing a level 2 charger ranges from $600 to $1,300, and installation is between $400 and $1,100, plus taxes. The average cost of a charger with installation is $1,500. If you need a current sensor because of a limited electrical panel or you live in a small multi-dwelling building, you can expect to pay $400 more.
As homeowners, the couple could have opted for installation by a qualified electrician. Instead, they chose a turnkey approach. "I wanted a company that would take care of everything: the excavation, connection and installation," said Yann. In the process, he learned that not all companies do condo installations. BEQ Technology, a group of electricians partnering with Hilo, which sells and installs various electric vehicle charging stations, is a good resource if you want to get a clearer picture.
What about financial subsidies?
If you purchase a new level 2 charging station certified by an accredited organization, there are various forms of financial assistance on offer. The Rosemont couple opted for the Government of Québec's individual $600 rebate for one home charging station, since they were the only ones in the condo to have an EV charger installed for private use. If the condo syndicate had opted for one multi-dwelling station, then other subsidies would have been possible. In the case of large multi-unit buildings, owners or managers can receive up to $25,000 in subsidies for buildings with 20 or more units.
Many municipalities also offer a variety of incentives in the form of rebates, refunds, subsidy enhancements or discounts when purchasing home charging stations. These typically range from $100 to $500.
Elmec's EVduty is Québec's most popular charger and the only one that is currently compatible with the Hilo charging solution. Want to help take the strain off the grid while earning cash rewards? Learn more about our solution!