All articles
The Hilo electric vehicle charging solution: A helpful tool
3 minutes reading
So you've made the decision to get a home charger—that's great! But what if we told you it could also earn you money? Hilo's smart solution for electric vehicle charging is an ingenious tool that lets you optimize your electricity consumption and lighten the burden on the electrical grid while earning you cash rewards. Here's how.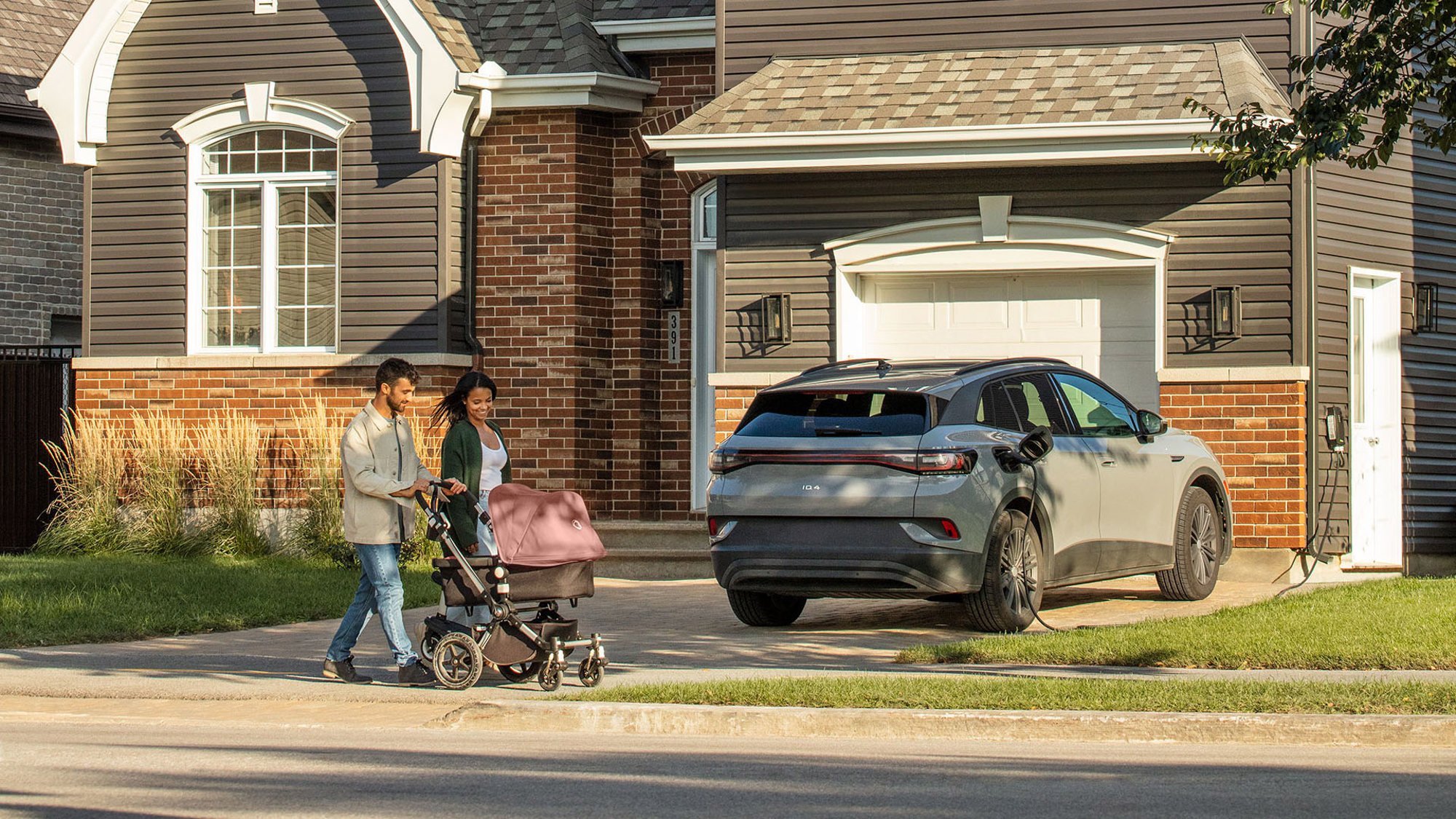 Automation frees the mind
Hilo's new solution for electric vehicle charging lets owners of compatible chargers add these devices in the Hilo application so they can automatically participate in consumption reduction challenges, which are held up to 30 times per winter during peak electricity demand periods.
How does it work? It's easy. Simply plug in your vehicle whenever you want and Hilo will ensure it doesn't recharge during challenges, which take place from 6 a.m. to 10 a.m. or between 5 p.m. and 9 p.m., or they may even be scheduled at both times. Afterwards, your car will automatically recommence recharging.
During a challenge, you earn cash rewards, the amount of which varies based on your recharging habits. As electric mobility product manager Alexandre Beaudet puts it, "The Hilo solution provides peace of mind."
Why participate in Hilo challenges?
During very cold periods, the electricity grid experiences high demand. Given Quebec's electrification plans, particularly for transportation, power needs will be increasing. By transferring electrical demand outside of peak periods, especially during cold snaps, we avoid having to buy energy from our neighbours or build new infrastructure.
This is why refraining from charging your car during peak periods has a positive impact. Eventually, Hilo will offer an even wider range of adjustments, such as reducing the recharging power for a few seconds in order to help balance the load on the network—an increasing concern given the growth of wind and solar, which cause fluctuating supply issues. To facilitate our energy and technological transition, as well as respond to the needs of our power grid and of owners of electric vehicles, it's important to have as many chargers as possible connected to Hilo.
"Of course, someone who isn't a Hilo customer can still decide not to recharge their car during peak periods, but actually being a customer provides more tangible assistance to the network—plus we pay you for that assistance," adds Beaudet.
What it takes and what it costs
EVduty chargers from Elmec are the first to be compatible with Hilo's smart home service. However, these chargers must be equipped with the Smart-Home update. If you own a standard charger model, the Smart-Home update (a value of $100) will be provided automatically and free of charge within the Hilo app, thanks to our partnership with Elmec.
The electric vehicle charging solution is free to customers who already have the Hilo smart home—they simply need to add the charger in the Hilo mobile app. Others must first spend $49.99 (plus taxes) to obtain the Hilo starter kit, which includes the Hilo hub and two smart plug-in switches.
Numerous advantages
Rewards that pay
With automatic participation, the smart solution for electric vehicle charging increases the likelihood of successful Hilo challenges. By combining the charging solution with other Hilo products, such as smart thermostats, you can receive an average of $170 in rewards per winter. But more importantly, in a few years' time (we dream big!) it will even be possible to maximize your rewards by allowing your vehicle to provide electricity to the grid through bidirectional charging.
Peace of mind
The Hilo solution automates the management of your charger. It takes care of stopping recharging and recommencing recharging at the right time. This therefore saves you both money and time. You can use your vehicle whenever you choose, and also withdraw or exclude your charger from a challenge (although this should be avoided to earn more rewards).
A more resilient Quebec
By shifting your vehicle recharging outside of peak periods, the Hilo solution lets you free up the grid's energy capacity, which can then respond to the increased demand for electricity, particularly on the part of electric vehicles.
Interested?
To obtain the solution for electric vehicle charging, all that's required is to be the owner of a compatible charger and purchase the starter kit, if you're not already a Hilo customer.
Are you planning to purchase an electric vehicle and want to learn more about various types of chargers? Learn more here.
Would you like to know how much you can earn in cash rewards and energy savings by joining Hilo? Take this test!
*For the heating solution, this estimate is based on the average reward received by customers who participated in 30 Hilo challenges during the winter season from December 1, 2021, to March 31, 2022, that average reward being $145. For the electric vehicle charging solution, this estimate is based on data collected during a pilot project conducted in the winter season from December 1, 2021, to March 31, 2022, in which the average reward was $25.