Purchase conditions
Termination and relocation
Termination
The duration of your commitment is three years (36 months). If you terminate your commitment, you must repay your remaining credit balance. This balance is based on the initial value of the thermostats, hub and installation, divided into 36 equal monthly installments; the amount to be repaid will be calculated pro rata based on the time remaining on your contract. Note that additional equipment you purchased or received as a bonus is not considered to be part of the credit balance calculation.
For example, if you chose the Small Home bundle, including 4 thermostats, and there are 12 months remaining on your contract at the time of cancellation, you must repay $246.60, plus applicable taxes. The table below explains how this amount is calculated.
To calculate the amount to be repaid, you must multiply the amount indicated in the Equivalent/Month box by the number of months remaining on your contract.
Note: All amounts are presented before applicable taxes. Where necessary, the amount to be repaid will be increased by an amount equivalent to the taxes.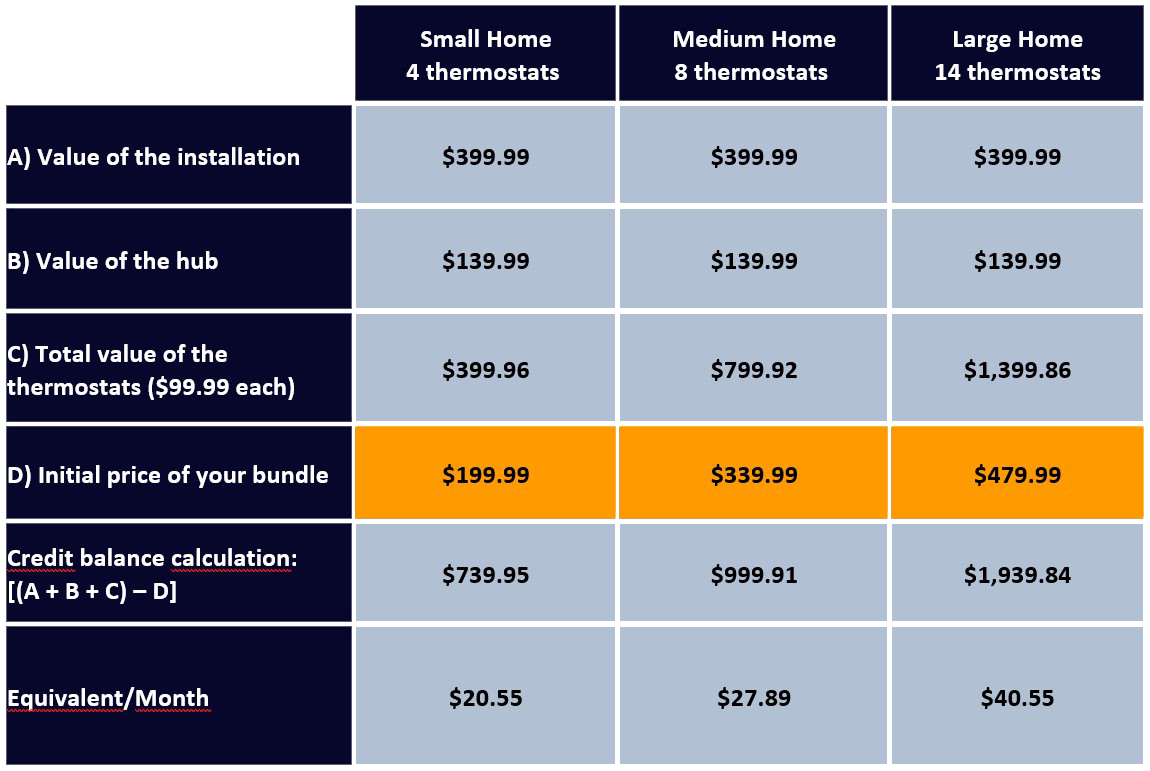 Relocation
Due to admissibility criteria that must be respected and validations that need to be performed, any move or relocation will automatically be considered a cancellation. In such a case you must therefore pay the value of your credit balance.
To allow us to evaluate together whether other options can be provided so that we can offer you the best possible service during this transition, please provide Hilo with four weeks' notice in advance of your moving date.*
*Please note that it's important to notify both Hydro-Québec AND Hilo if you plan to move.