All articles
Participant Agreement: 5 things to remember
4 minutes reading
Are you interested in joining the Hilo movement and doing your part to save the planet, but would like to know first exactly what's involved? Here's a summary of a few key takeaways.* Let's get started!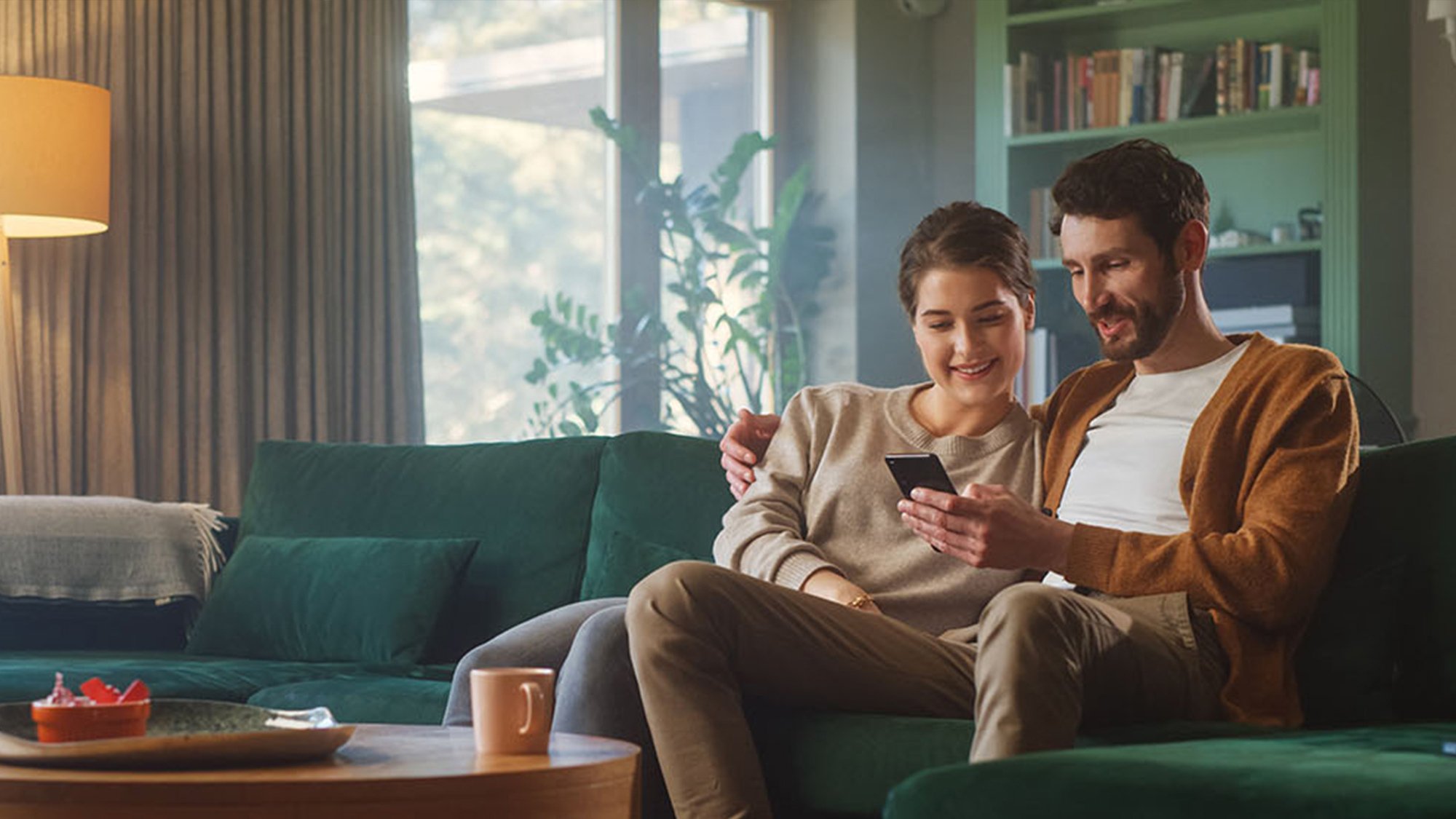 1. How does it all work

?
Hilo is a smart home service that lets you optimize your energy consumption in exchange for earning cash rewards during peak energy demand periods in winter, specifically through the use of smart thermostats and an intuitive mobile application. To get started, you need to buy the equipment you need to participate in challenges.
First, get the

starter kit

(free of charge), which includes the hub and two smart plug-in

switches

;

Next,

choose at least one of the two available solutions

, the

solution for heating

or the

solution for electric vehicle charging

(compatible with an eligible EVduty charger).
Learn more about the steps to sign up for Hilo
2. Eligibility
To be eligible for Hilo, both before and during the period of the agreement, you must:
be a Hydro-Québec customer and a holder, co-holder or mandatary of a residential

account;

have high-speed Internet and a free Ethernet port on your

modem;

own a

smartphone;
be subscribed for

rate D

service (

basic rate for residential customers

);

have a functional electrical system that complies with existing legal requirements.
Hilo is available to renters and owners. However, if you join as a renter, it is your responsibility to obtain permission from the property owner prior to signing up.
3. Installation

included
The first visit to your residence by a certified electrician for installation is included. Note that if you purchase the starter kit without any thermostats (for example, if you sign up for the solution for electric vehicle charging), no visit by an installer is required.
For a subsequent order of thermostats, you will be invoiced an installation fee of $150. For this reason, we recommend replacing all of your thermostats when you submit your first order!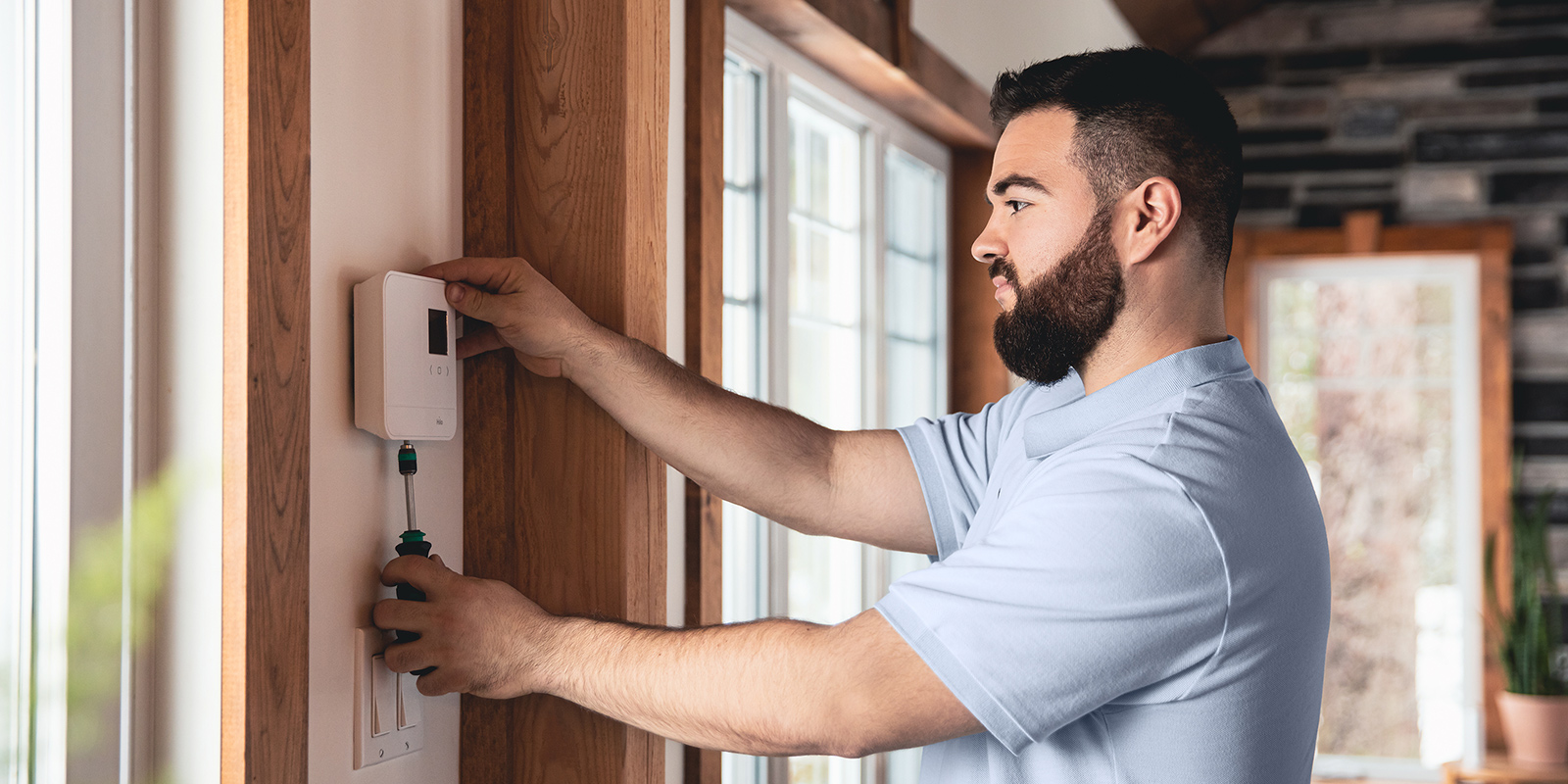 4. A 3-year commitment
Credit balance
Joining Hilo means agreeing to participate in challenges for three years. To thank you for your commitment and participation, Hilo offers its thermostats for a lower price than you will find in the marketplace. The credit balance is the difference between what you pay to obtain your devices and their actual value. This amount will appear in your shopping cart when making your purchase.
For example, the market value of the smart thermostat is $109.99 per device, but with Hilo you will only pay $39.99. Note that the credit balance only applies to thermostats (before taxes) and not for installation, since it's free of charge!
If you cancel your agreement before the end of 36 months, you must repay the credit balance that corresponds to the period remaining on your contract.
Example
Jean-Pierre buys eight thermostats.
The cost of his thermostats is

$319.92

(8 x $39.99), before taxes.

His credit balance will be $560.00, which is the actual value of the devices ($879.92) minus the price he paid ($319.92).

The balance will be divided over the 36-month period.

Each month, Jean-Pierre's balance will be automatically reduced by $15.56 ($560.00/36).

After 36 months, his balance will be $0.00.
After 36 months, when the credit balance is zero, you simply continue to use the service as outlined in the agreement to benefit from the features available in the mobile application and to earn cash rewards during challenges.
Moving
If you are planning to move, please get in touch with us so that together we can evaluate the options available to you.
Did you recently move and want to join Hilo? Then simply wait to receive your first bill from Hydro-Québec or obtain access to your new contract number in your Hydro-Québec Customer Space.
5. Hilo challenges
Hilo can hold up to 30 power reduction challenges per season, which is between December 1 and March 31. Some seasons, however, may have fewer challenges. There are a few elements that can have changes on Hydro-Québec's needs, such as weather conditions, the state of the electricity grid, equipment failures, etc.
The challenge process
During challenges, which take place either in the morning or the evening, or at both times, Hilo automatically lowers the temperature of your thermostats a few degrees and interrupts electric vehicle charging. You will receive a notification of the challenge the day before in the mobile app. You have until midnight to customize your challenge by choosing your participation mode and whether you would like to add a pre-heating phase or not.
To optimize your rewards during challenges, you must reduce your household energy consumption. It is the total electricity consumption of your home (including your major appliances, water heater… in short, anything that is connected to your meter) that matters when calculating your rewards, no matter whether you have one, six or 15 Hilo thermostats or participate in challenges solely using the Hilo solution for electric vehicle charging. Learn about the five golden rules for optimizing your rewards.
Participation
Hilo asks customers to participate in the maximum number of challenges possible each season. The reward is 0.55¢ for each kilowatt-hour saved during a challenge. During the 2022-2023 season, our customers earned an average of $140 in cash rewards. (Our customers generally enjoy taking challenges. During the 2022-2023 season, the average participation rate was 98%!)
To have the right to earn a reward, you must complete the challenge. The more you participate in challenges, the higher your total rewards will be at the end of the season! Calculate how much you might get.
Successful, refused or failed challenges 
A successful challenge is one that you complete right to the very end and where your reward is greater than $0. This means you have been able to reduce your energy consumption compared to your usual consumption.
A refused challenge is when you voluntarily refuse to participate in a challenge. No challenge, no reward!
If you want certain rooms in your home to be excluded from a challenge (such as a baby's room), simply exclude certain thermostats in your settings instead of refusing a challenge.
Note that if voluntarily refuse too many challenges, Hilo will contact you to provide assistance. If this happens too often, Hilo may proceed to take certain measures, which may include cancelling your Agreement.
A failed challenge is when you participate in a challenge unsuccessfully. This means your consumption during the challenge exceeded the maximum consumption limit that had been established for your home at the start of the challenge. Rest assured that failed challenges do not count towards the minimum participation required by your agreement. The average success rate for challenges in the 2022-2023 season was 96%.
The important thing is that you participated in the challenge to the best of your abilities. It's always better to participate than to refuse and lose an opportunity to earn rewards and help ease demand on the power grid.
Have any other questions? Don't hesitate to visit our help centre and our blog. Or why not get in touch? We're here to help!
*This article does not constitute the Participant Agreement, but is rather a summary of items covered in the Agreement. This document has no legal value. For the full agreement, click here.